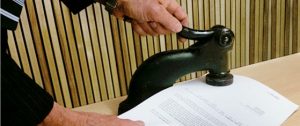 A lawyer seeking the consent of the Society to an application for a Notarial Faculty is generally expected to have 10 years' post admission experience as a lawyer in New Zealand, including a significant portion of time (usually five years) as a law firm partner or sole practitioner.
Download the Application to become a Notary form, complete and return to the Secretary along with the supporting documentation outlined in the application process.
Fees:
Application fee:  $300
Tutorial fee: $200
Faculty Office fee:  £790 pounds sterling (effective 1 October 2023)
Society Membership fee: $200.00 per annum
We have a current shortage of notaries in rural areas and Council are particularly interested to hear from lawyers outside of the main centres.
Please see link to recent article published in the NZLS Latest News – Shortage of Notaries Public in rural areas